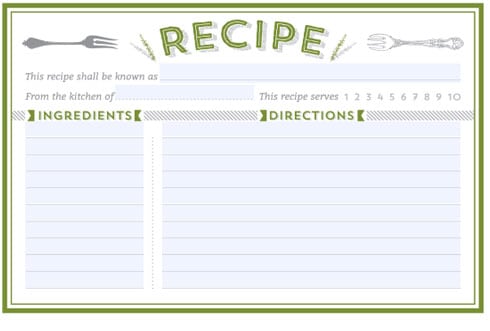 Do you feel bound to recipes? Or stuck on what to make for dinner if you don't have exactly what your Pinterest recipe calls for? Do you have piles of saved recipes from magazines, cookbooks and food bloggers, but never actually make them? All of this is often because we don't feel confident in the kitchen and all of those recipes may look tasty, but they aren't exactly yours. Aside from baking, most of our grandparents and great-grandparents did not use many recipes when they cooked – they simply cooked! I can even remember my mom asking my grandma for her pie recipe and my grandma being completely unable to write it down. Instead, she told my mom to watch her and take her own notes! There was no recipe because she had learned from watching her own mother and making her own unique changes over time. Unfortunately, many of us have lost this skill of making our own recipes and we end up doing very little home cooking at all! But I'm here to tell you it's not that hard! All you need is a few key categories of ingredients and a list of your own favorite flavors and you'll be off and running, er, cooking! Here's what you'll need:
Protein: This can be anything from chicken to beans! Fish, meat, eggs, lentils, nuts, seeds, yogurt. Any protein will do, but you have to have some in every meal you make if you want it to be truly satisfying.
Fiber: No not fiber powder. REAL fiber from PLANTS! All vegetables count here. So do fruits, whole grains, nuts and seeds. Pick some plants to go with that protein and your meal is almost complete!
Flavor: This is where your uniqueness will shine through! Think dressings, sauces, spreads, seasonings and condiments. Do you enjoy Mexican food? Salsa, cumin, guacamole and lime are your go-tos here. More of a Greek food fan? Grab the tzatziki, basil, oregano, lemon and balsamic vinegar!
Ok so you have your 3 key items, now put them together! Let's do some examples:
Protein: Chicken
Fiber: Broccoli
Stir Fry: sauté your ingredients in sesame oil and flavorings of add tamari, rice vinegar, garlic and ginger. Take it up a notch by serving it on rice or noodles.
One-Pan Supper: Toss your ingredients in avocado oil and add flavorings of lemon juice, balsamic vinegar and Italian herbs, then bake! Take it up a notch by adding some diced potatoes to the mix!
Chicken Soup: brown the chicken in a pot, add your broccoli then add flavorings of broth, apple cider vinegar, can of tomatoes, garlic, thyme and bay leaves. Let simmer. Take it up a notch by adding a splash of milk at the end to make it creamy or serve your soup with shredded cheese and avocado on top!
Shall we try another?
Protein: Salmon
Fiber: Cabbage
Taco Bowl: Toss chopped cabbage with flavorings of lime juice, salsa and cumin. Bake or grill the salmon in the same flavorings and serve it on top of the slaw. Take it up a notch by adding a dollop of guacamole on top or serve the cabbage and salmon in corn tortillas for tacos!
Greek Mezze: Brush salmon with flavorings of olive oi, lemon juice and garlic and grill or bake. Toss chopped cabbage with same flavorings plus chopped fresh basil. Serve salmon on slaw with additional flavoring of Tzatziki drizzled over the top! Take it up a notch by adding sliced cucumber to the slaw and serving it all alongside quinoa or pita bread.
Salmon Burgers: mash up baked salmon with an egg (bonus protein!) and flavorings of Italian herbs and bread crumbs. Chop cabbage into large wedges and brush with flavorings of avocado oil, lemon juice and Italian herbs. Grill the burgers and cabbage wedges. Serve with a squeeze of lemon and drizzle of balsamic vinegar on top! Take it up a notch and add another roasted veggie on the side or add a dollop of hummus on top of the burger!
Ok your turn!
Protein: Black beans
Fiber: Bell pepper
Protein: Ground turkey
Fiber: Cauliflower
What will you do with these combos to DIY a recipe? Let us know by tagging us on Facebook or Instagram to show us your non-recipe creations!